Winter Tank Protection
Newsletter Archive
As you prepare your business for the colder months ahead, don't forget about your fire protection tank. When water freezes, it expands. So if the water temperature of your tank drops below 32 degrees, even for a short period, you run the risk of catastrophic failure that could result in injury or even death. Preventative maintenance is the key to maintaining a safe and reliable fire protection tank.
Exposed Pipes and Connections: Walk the perimeter of your tank checking to make sure that all pipes are properly insulated for your geographical location. Pay close attention to your inlet and outlet pipes, drain nozzles, mechanical liquid level gauge and any other attachments contacted to the tank that will be exposed to the elements.
Leaks or Coatings Failures: As tanks age, coatings and materials can begin to break down, especially if they are not on a regular maintenance schedule. Most water storage tank failures begin with the coatings. If your coatings get damaged or scratched, water will begin the process of deteriorating the steel resulting in leaking. When a tank begins to leak, not only does it damage the structural steel, but will leach down to the foundation resulting in washout and foundation damage. Regular examination of the coatings and the condition of your foundation will avoid costly repairs in the future.
Professional Inspection Services: With a team of experts up to date on all of the necessary codes, PMD offers a multitude of inspection options to ensure your tank is prepared for the winter season and within code compliance. PMD will provide you with the detailed information you need to ensure the health, integrity and safety of your tank. PMD reports will address all applicable standards, including AWWA, NFPA 22 and 25, OSHA, EPA, and authorities having local jurisdiction.
Insulation Makes a Difference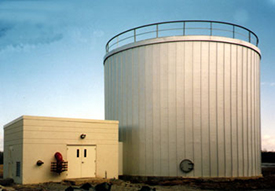 Insulation is the key to maintaining proper water temperature in your fire protection tank. The two most common types of tank insulation are spray foam and aluminum panel. When using electric heating systems, NFPA 16.3.5.5 states: System shall have adequate capacity to maintain a minimum water temperature of 42º when all heater elements are in operation.
Spray Foam: Spray foam insulation is ideally suited to insulating fire protection tanks. Spray foam insulation adheres to the surface of the tank, fills any cracks or seams and creates a weather-tight insulating layer between the elements and the storage tank. Top coated with a UV resistant finish, spray foam is a budget friendly solution to your tank insulation needs.
Aluminum Panel: Aluminum panel insulation consists of a foil-faced isocyanurate foam insulation laminated to a stucco embossed polyester paint finish aluminum outer sheathing. These sheathings are available in a variety of colors both standard and custom. This attachment system is installed without requiring welding or other "hot work" so the tank can be insulated while remaining in service. This system also requires minimum continuing maintenance and is pre-engineered to meet your project's specific requirements.
New and Preowned Tanks | Tanks Raised, Lowered and Moved
Paint | Repair | Dismantle | Inspect